Skip to Content
Electrical Wiring in Portland, ME
Comprehensive Electrical Wiring
Electrical wiring is the nervous system of your property's electrical demands, supplying power throughout the different outlets, lights, and appliances. When electrical wiring is faulty, you are left facing serious problems. That's why Casco Bay Electric provides comprehensive electrical wiring for residential and commercial properties in Southern Maine, ensuring your power demand is fulfilled safely and efficiently.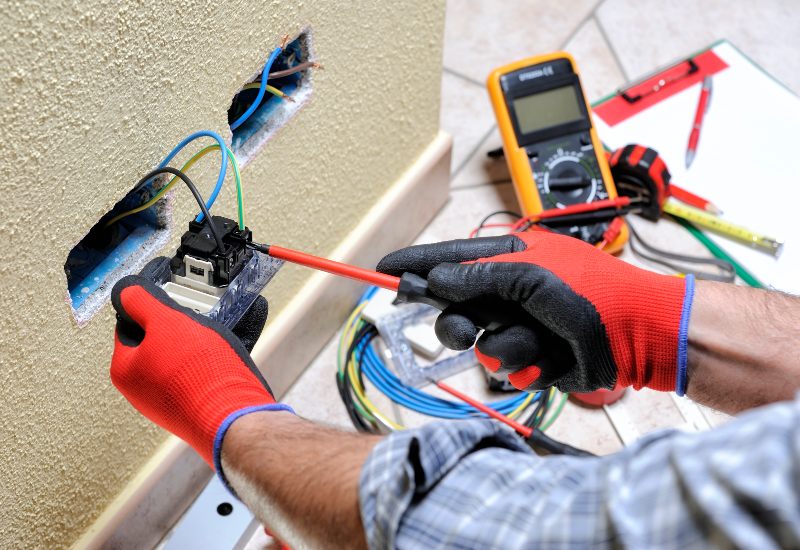 Trusted Electrical Wiring Specialists
As a renowned electrical wiring provider, Casco Bay Electric is equipped to handle minor to complex electrical wiring needs for homes and businesses. Combining our expertise with our dedication to high-quality service and precise electrical solutions that promote safety, efficiency, and functionality, our team is here to take on your electrical wiring with precision and accuracy.
The Importance of Electrical Wiring
Professional-installed electrical wiring is vital to the safety and efficiency of your property. Outdated or insufficient electrical wiring increases the risk of electrical fires, electric shock, and premature deterioration or failure of your appliances and devices. Our electrical wiring ensures code-compliant, protective, and high-performing results that enhance the functionality and safety of your property.
Personalized Electrical Wiring Solutions
Our electrical wiring professionals provide personalized solutions based on the unique needs of your property. We provide strategically designed wiring layouts that include good circuit sizing to promote accurate electrical load distribution, reducing the risk of overloads and failures. Our goal is to increase your electrical supply's performance while maximizing your equipment's longevity.
Residential Electrical Wiring
Whether navigating a new build, remodeling your home, or looking to update your current residential electrical wiring, Casco Bay Electric is here to help. We consider the size of your home, your family's power demands, your current electrical system, and any potential expansions to curate the most effective electrical wiring infrastructure that is resilient, safe, and high-performing.
Commercial Electrical Wiring
With extensive experience handling electrical wiring for commercial properties, including offices, retail spaces, and much more, Casco Bay Electric is well-versed in the unique demands of commercial establishments. Our professionals work diligently to design effective electrical wiring layouts that minimize downtime during the installation while enhancing the efficiency and reliability of your property with long-lasting solutions.
Electrical Wiring Process
Our electrical wiring process begins with a comprehensive walk-through and assessment of your property's current electrical system. Combining the results of our assessment and the needs of our customers, we take the time to understand your requirements to develop a custom-tailored electrical wiring solution that accommodates safety, energy efficiency, and optimal functionality.
Electrical Wiring Installation
Using high-quality materials and ensuring all work is performed. Parts used adhere to rigorous safety standards, and our installation process is prompt and effective with minimal disruption to your daily routine. Our professionals work meticulously to ensure proper routing followed by careful insulation and grounding to ensure your electrical wiring installation is accurate and secure.
Electrical Wiring Upgrades
Outdated electrical components have a higher risk of hazards, such as fire and electrocution. Furthermore, they often do not meet the latest safety codes and regulations and can be detrimental to your property should they malfunction. Fortunately, Casco Bay Electric provides detailed inspections to help you determine if it's time for an electrical wiring upgrade.
Choose Casco Bay Electric
At Casco Bay Electric, we take pride in our reputation for delivering quality work, unparalleled customer service, and support that meets our customers' unique needs. With a commitment to the highest safety standards, our electrical wiring solutions follow strict protocols to ensure optimal protection and reliability for your property so you can gain complete peace of mind.
Schedule Your Electrical Wiring Inspection Today
Whether you're planning a new build and need the assistance of electrical wiring professionals or an electrical wiring upgrade to increase the safety and efficiency of your property, Casco Bay Electric is here to make it happen. Contact us today to schedule your electrical wiring inspection.
Your Local Licensed Electrical Experts. Available 24 Hours a Day.