Skip to Content
Electrical Maintenance in Portland, ME
Electrical Service & Maintenance
As a business owner or homeowner, it's important to keep your electrical systems in good working order to avoid any unexpected disruptions or hazards. That's where Casco Bay Electric comes in. We offer comprehensive electrical preventative maintenance services to ensure that your electrical systems are running safely and efficiently. With years of experience serving the Southern Maine area, our team of licensed electricians is equipped to handle any maintenance needs you may have. Read on to learn more about our maintenance services and how we can help keep your electrical systems in top condition. And don't hesitate to contact us today to schedule an appointment for your electrical repair needs.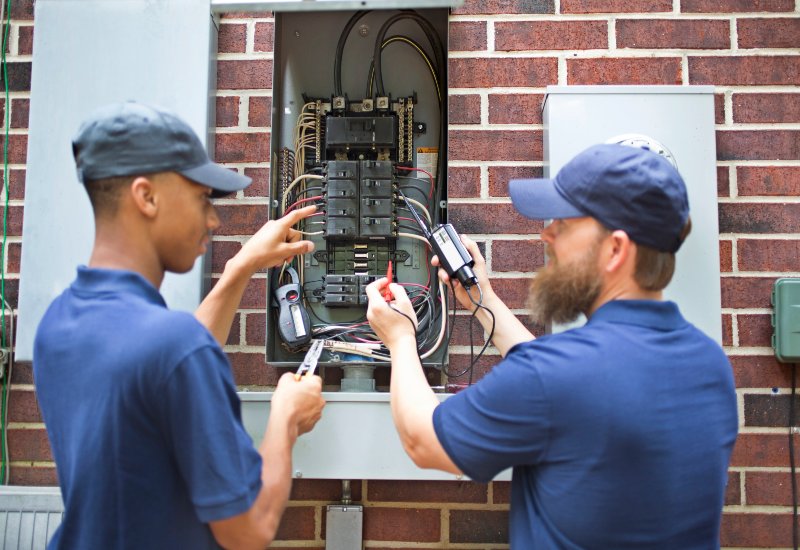 Electrical Repair Services
Casco Bay Electric provides comprehensive electrical repair services for residential, commercial, and industrial clients in South Maine. Our team of licensed electricians is well-equipped to diagnose and repair any electrical issues you may be experiencing. From minor repairs such as replacing an outlet to major electrical overhauls, we provide fast and reliable service to ensure your safety and peace of mind. Our focus is on delivering high-quality repair services with a commitment to excellence, honesty, and clear communication throughout the entire process.
Professional Electrical Installations
At Casco Bay Electric, we are dedicated to providing our clients with a comprehensive range of electrical installation services that cater to their specific needs. Whether you require our services for a residential, commercial, or industrial property, our team of skilled electricians has the knowledge and expertise to handle any project. We understand that every installation project is unique, and that's why we work closely with our clients to understand their requirements and provide customized solutions that meet their expectations. We use only the highest quality materials and equipment, and our team is trained in the latest techniques to ensure that your installations are not only safe and reliable, but also comply with industry standards and codes. We take pride in our work and are committed to providing exceptional customer service, from start to finish. Whether you need a simple lighting installation or a complete rewiring project, you can trust Casco Bay Electric to get the job done right.
What Do Electrical Problems Look Like?
Electrical problems can manifest in a variety of ways. Some of the most common signs of electrical problems in a building or home include flickering or dimming lights, outlets or switches that are hot to the touch, frequent blown fuses or tripped circuit breakers, and appliances that are making unusual noises or not working properly. These issues can indicate a variety of underlying problems, including overloaded circuits, faulty wiring, or outdated electrical systems. Other signs of electrical problems can include strange smells or buzzing sounds coming from outlets or fixtures, as well as sparks or smoke. It is important to address any electrical problems as soon as they arise, as they can pose a serious safety hazard and may require the expertise of a professional electrician to resolve them. Regular electrical maintenance and inspections can help prevent electrical problems from occurring in the first place and ensure the safe and efficient operation of your electrical system.
Contact Casco Bay Electric Today
Electrical maintenance is crucial to ensuring the safety and efficiency of your electrical systems, whether it be in your home, business, or industrial facility. At Casco Bay Electric, we are committed to providing top-notch electrical maintenance services to our clients in South Maine. Our team of experienced electricians will work with you to create a maintenance plan tailored to your specific needs, helping to prevent potential electrical hazards, and minimizing downtime. Contact us today to learn more about our electric maintenance services and schedule an appointment to keep your electrical systems running smoothly.
Your Local Licensed Electrical Experts. Available 24 Hours a Day.