Skip to Content
Electrical Safety Tips from Casco Bay Electric
Optimizing Electrical Safety in Southern Maine
Electrical safety tips are paramount for homes and businesses. Electrical hazards are often overlooked, leading to increased fire risk, electric shock, and property damage. Fortunately, you can combat electrical hazards with the help of Casco Bay Electric and our trusted electrical safety inspections that guide you in implementing the most secure and effective electrical practices on your property.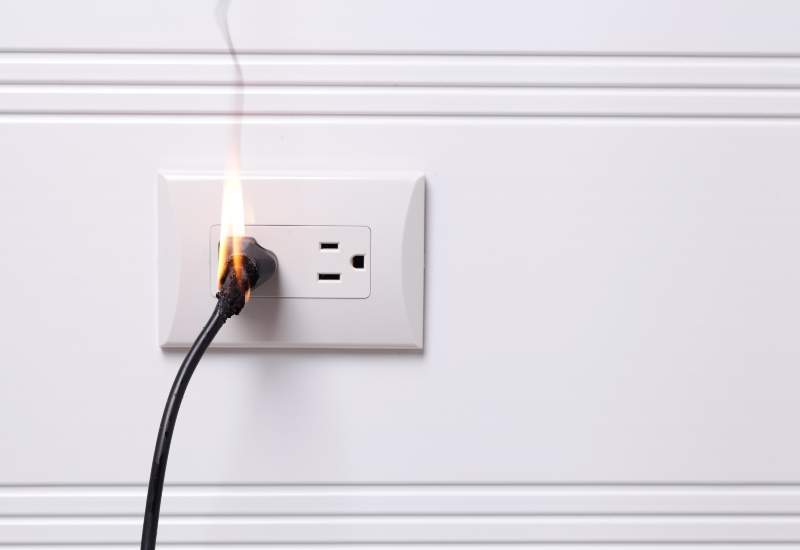 The Importance of Electrical Safety
Faulty electrical systems and insufficient electrical practices can wreak havoc on property and severely risk your health and personal safety. By prioritizing electrical safety and engaging in the most secure electrical precautions, you can deter electrical hazards and enhance the protection of your property, employees, guests, or family, leading to a safer, healthier, and happier life.
The Risks of Faulty Electrical Equipment
Faulty or outdated electrical equipment comes packed with potential hazards, including:
Electrical fires
Electric shock
Personal injury
Fatalities
Extensive property damage
Costly repairs
Electrical Safety Inspections
An electrical safety inspection is the first line of defense to ensure your electrical system is safe and efficient. During an electrical safety inspection, our professionals will carefully assess your property, identifying areas of concern, hazards, and the condition of your current electrical components. Based on our evaluation, we provide our customers with a detailed report, including recommendations to increase electrical safety.
What We Look For
While assessing your home, we go deeper than just quickly taking a peek at your electrical system. We come prepared with a detailed checklist of areas to evaluate to detect and diagnose outdated or insufficient wiring, overloaded circuits, and more. Furthermore, we verify the grounding systems and whether your property has surge protection to ensure we check all the boxes.
Electrical Safety Upgrades
When a faulty electrical component is found during our electrical safety inspection, our professionals ensure prompt upgrades to safeguard your property. As time-honored business and home electrical safety electricians, we have the knowledge and tools to install upgrades that preserve safety and protection while mitigating risks.
Types of Electrical Safety Upgrades and Installations
Casco Bay Electric provides an array of electrical safety upgrades, including:
Ground fault circuit interrupter (GFCI) outlets
Surge protectors
Arc fault circuit interrupter (AFCI) breakers
Smoke and carbon dioxide detectors
Ground Fault Circuit Interrupter (GFCI) Outlets
Ground fault circuit interrupter (GFCI) outlets combat electric shock by turning off during a power surge or ground fault. They are essential in areas where water and electricity meet, such as bathrooms and kitchens.
Surge Protectors
Surge protectors are safety features that protect your electrical appliances and devices from power spikes caused by unforeseen power surges that would otherwise damage your valuable belongings. Surge protectors are excellent for maintaining your home's protection while extending your electronic equipment's lifespan.
Arc Fault Circuit Interrupter (AFCI) Breakers
Arc fault circuit interrupter (AFCI) breakers are crucial to safeguard your home or business from damaging electrical hazards. They are designed to turn off your property's power supply when they detect hazardous arcing conditions, mitigating electrical fires.
Smoke and Carbon Dioxide Detectors
Smoke and carbon dioxide detectors allow for prompt alert and response time in the event of a fire or gas leak. This permits occupants to evacuate, contact emergency services, and minimize the risk of extensive property damage by acting fast.
Electrical Safety Code Compliance
The professionals at Casco Bay Electric work meticulously to adhere to the strict safety codes and regulations, ensuring optimal safety and compliance for each electrical safety upgrade and installation we conduct. Backed by decades of experience and a wealth of knowledge, we understand the complexities of electrical safety and work diligently to ensure no job is complete until the safety standards are met.
Emergency Electrical Safety Services
Emergency electrical issues can arise at any time, often offering little to no warning. That's why Casco Bay Electric provides responsive and reliable emergency electrical safety services to address immediate risks that plague your property promptly. Contact our team for instant relief and support when you realize a sparking outlet or a severe power outage.
Enhance Your Property's Electrical Safety Today
Don't wait until your faulty or outdated electrical equipment risks your personal and property's safety. Rely on Casco Bay Electric for a trusted electrical safety inspection that ensures your home or business's efficiency, protection, and performance. Contact us today to schedule your electrical safety inspection.
Your Local Licensed Electrical Experts. Available 24 Hours a Day.