Skip to Content
24 Hour Emergency Services in Portland, ME
CBE-Your Trusted, Local, Licensed Electrical Experts
Casco Bay Electric Has Licensed Electricians Standing By
If you're like most businesses and homeowners, you probably take your electricity for granted until something goes wrong and you're suddenly without power. When you need emergency electrical services, Casco Bay Electric has licensed electricians standing by 24 hours a day. We're ready to dispatch emergency services when you need us the most. From tripped circuit breakers and overloaded outlets to a larger-scale electrical malfunction resulting in a power outage, no emergency job is out of our scope. Our company provides both residential electrical services and commercial/industrial electrical services at competitive rates.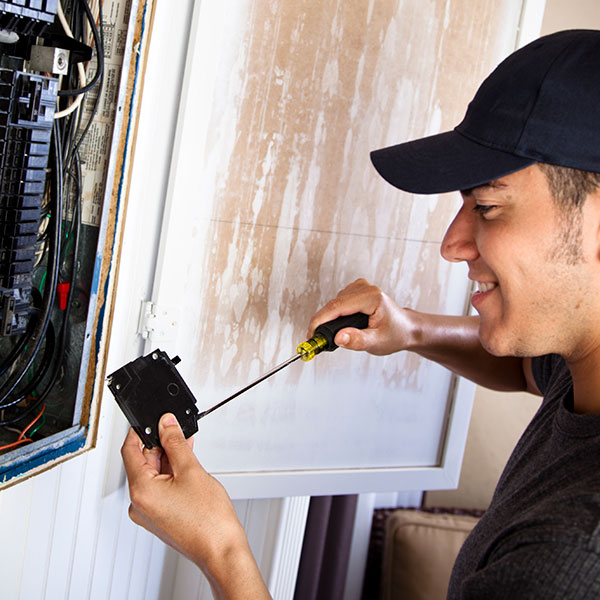 What Constitutes an Electrical Emergency?
Being without electricity isn't only an inconvenience; it can also be a safety hazard under certain circumstances. Whenever you have an electrical system issue, we're just a phone call away for an emergency assessment and repair. Your family's safety is always our top priority. If you're not sure if your issue constitutes an electrical services emergency, feel free to call Casco Bay Electric, LLC to speak with one of our knowledgeable dispatchers. We'll help you decide if you need immediate service or if it'd be better to wait and schedule a repair during our regular business hours.
Call us right away if you experience any of the following common electrical emergencies:
Overloaded Outlet/Tripped Circuit Breaker: Most people have more gadgets than they know what to do with, which often results in overloaded electrical outlets among today's modern homes and businesses. When you demand more electricity than your system is equipped to handle, it can result in a tripped circuit breaker. Repeatedly tripping your circuit breaker may result in an electrical malfunction requiring the attention of a skilled emergency electrician.
Flickering Lights: Flickering lights could be an indication of faulty electrical wiring, which could cause an electrical fire if ignored. It's best to err on the cautious side when safety is at stake.
Power Outage: As long as you continue to pay your electric bill on time, it stands to reason that your home or business shouldn't ever be without power. If you experience a sudden blackout, be sure to ask around your neighborhood to see if everyone is without power. If it's only you that's without power, this is the time to call an emergency electrician.
What Should You Do in a Power Outage?
Occasionally, you may experience a power outage due to severe weather or an issue with your local utility company. Our sister company, Casco Bay Generators, has extensive training to provide backup power and generator repairs to the Mid-Coast areas. If your power has gone out amid a storm, don't hesitate to call us to get you back up and running again in no time!
Here are a few tips to help get you through the next power outage in one piece:
Keep your refrigerator/freezer closed to prevent food spoilage
Disconnect your electrical appliances to avoid a power surge
Keep away from windows until the threat of severe weather passes
Monitor local weather reports until the severe weather passes
Never try to use a gas stove to heat your home or business – when it's safe to do so, go to an alternate location for heating/cooling in extreme temperatures
Generators should only be used outdoors, as they could cause carbon monoxide poisoning if used indoors
Try to have flashlights and extra batteries on hand in case of a power outage
Check in with your neighbors to see if they have power
Call an emergency electrician for an assessment and repair
What Should You Do in an Electrical Fire?
In the event of an electrical fire, the most important thing to remember is to try to stay calm. First, you'll need to shut off the power to the affected appliance or area – unplug it from the outlet or turn off the panel if it's safe to do so. Baking soda may be an effective way to douse a small fire, such as a sizzling power strip or a toaster on fire. Never use water to try to put out an electrical fire, as this is the leading cause of an electrical shock! Even if you do manage to put out the fire yourself, you'll still need to call an emergency electrician to come in and assess the damage.
What Should You Do in the Case of Electrical Shock?
An electrical shock may result in burns, cardiac arrest, or a fatality depending on the type of electrical current involved, how high the voltage is, and how the current traveled through the person's body. You should never touch or try to move the affected person if they're still in contact with the current. Immediately call 911 and shut off the source of electricity if it's safe to do so. Once the source of power has been eliminated, it may be necessary to perform CPR if the person has stopped breathing. If the person is bleeding, it may be necessary to apply pressure and elevate the wound until help arrives.
What Can You Expect at Casco Bay Electric, LLC?
When you need an emergency electrician in Portland, ME or a surrounding area, the competent electrical contractors at Casco Bay Electric, LLC have you covered. Call us any time, day or night, whenever an emergency arises for immediate service. Whenever you call our electrical experts, you can expect to receive first-class customer service using the latest technologies. We always provide clear, honest communication for the duration of your project and leave the job site clean afterward for minimal disruptions to your home or business life. Whether you need emergency service, or you'd be interested in learning more about an efficiency upgrade, we're the local licensed electrical contractors to call for reliable 24-hour service.
Your Local Licensed Electrical Experts. Available 24 Hours a Day.