Skip to Content
Electric Panel Installation in Portland, ME
Electric Panel Upgrade Services
Casco Bay Electric is your trusted provider of electric panel upgrade services in Southern Maine. Combining our steadfast dedication to high-quality work and our commitment to the highest safety standards, we have earned a reputation for unrivaled electric panel installation services that enhance commercial and residential properties' efficiency and performance.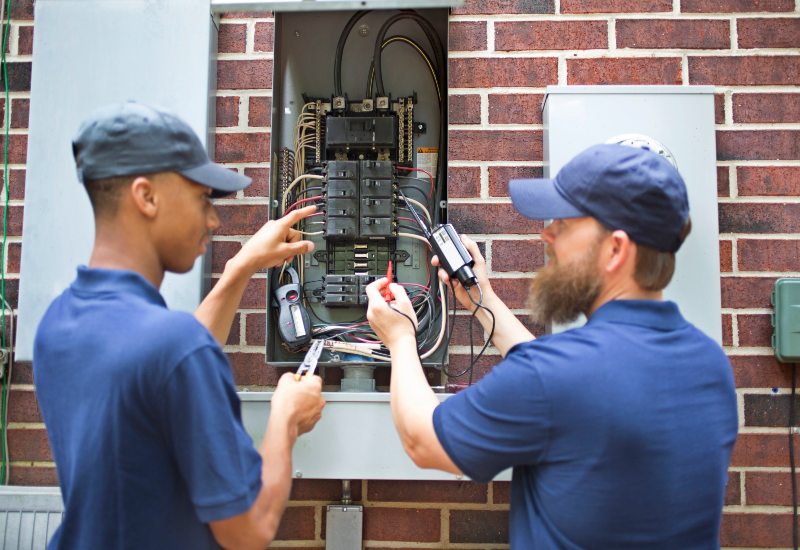 Understanding Your Electric Panel
Your residential or commercial electric panel is the central hub of electricity for your property. Electric panels are responsible for receiving electricity from the city's provider and distributing it to the different circuits within your home or business. The electric panel controls safe and even distribution and protection against short or overloaded circuits.
The Importance of a Safe Electric Panel
A safe, well-maintained electric panel is vital as it protects the safety of those inside the property. A faulty electric panel poses significant health and safety risks, including electrical fires and electric shock. Furthermore, a malfunctioning electric panel can damage your devices and appliances, resulting in decreased energy efficiency and high utility bills.
Residential Electric Panels
The safety of your residential property is important to us. That's why our professionals provide in-depth electric panel inspections to assess the condition and needs of your electrical panel. We will carefully detect inefficiencies and recommend the best course of action to ensure your home is safe and energy-efficient with solutions that may include an electric panel upgrade.
Commercial Electric Panels
Commercial properties have unique electrical demands as they have a larger scope of appliances and devices to power. As such, a reliable electric panel is imperative. Our professionals specialize in commercial electrical panel installation, ensuring businesses receive reliable electric panels capable of supporting the electrical load they need to operate with maximum safety and productivity.
Electric Panel Upgrade Benefits
Upgrading your residential or commercial electric panel provides an array of benefits. Electric panel upgrades enhance the safety of your property, ensuring adequate circuit protection while deterring electrical overloads and hazards. They also increase electrical power capacity and accommodate modern technology with more robust power demands for optimal energy efficiency while protecting your appliances and devices.
Safety Features of Electric Panels
When you pursue an electrical panel upgrade with Casco Bay Electric, you can include additional safety features that enhance your property's protection, including surge protection or grounding systems. These additions protect electronic appliances and devices from the harmful effects of power surges while providing an additional security barrier against electrical faults.
Electric Panel Installation Process
Electric panel installation must be handled carefully and diligently to ensure safe and effective results. That's why we follow a meticulous process at Casco Bay Electric and provide quality assurance for enhanced peace of mind.
Site Walkthrough and Evaluation
We begin our process with a site walk-through to assess your property's electrical requirements and detect any areas of concern. Based on our findings, we work with you to develop the most suitable electric panel upgrade, ensuring it adheres to safety codes and regulations while providing maximum energy efficiency and performance.
Electric Panel Installation and Quality Assurance
We will begin the installation once we've determined your property's most effective electric panel upgrade. We ensure each connection is secure and grounded during the process, leaving no room for error. We conduct rigorous verification protocols, testing the functionality and safety of the electric panel upgrade for quality assurance and leaving you with the most reliable results.
Contact Casco Bay Electric for Electric Panel Services Today
If the time has come to enhance the performance and safety of your property with a reliable electrical panel upgrade, look no further than Casco Bay Electric. Contact our friendly team to schedule your service today for quality workmanship, optimal customer service, and long-lasting results.
Your Local Licensed Electrical Experts. Available 24 Hours a Day.